Oct. 31 concludes Breast Cancer Awareness month. Many of our wildlife officers have worn pink shoulder patches on their uniforms during the month of October to honor those who have been affected by this terrible disease.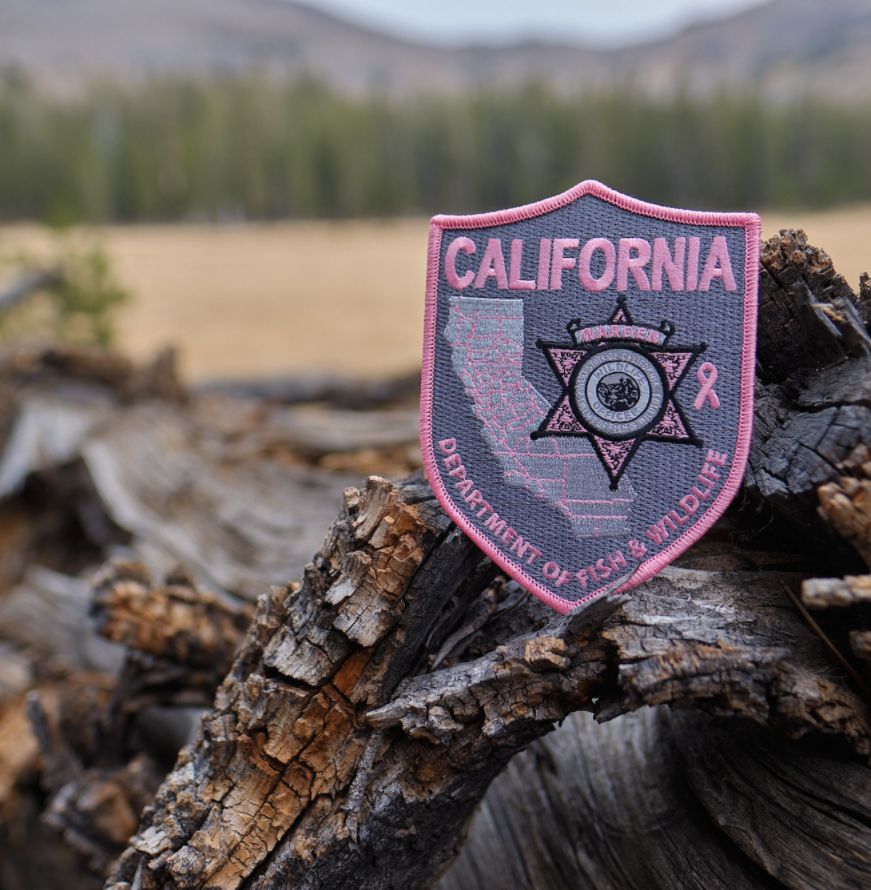 We honor those wildlife officers and CDFW employees who have fought breast cancer. CDFW is particularly proud of our own Assistant Chief (AC) Christy Wurster. AC Wurster has put her life on the line on many occasions to protect California's citizens and our fish and wildlife. She knew her life was on the line again when she was diagnosed with breast cancer. She shares a personal heartfelt story. We hope it will inspire others to reach down deep and come up with the strength to fight if they are ever faced with the words from their doctor, "You have breast cancer." Read her story:

"I was diagnosed with breast cancer in 2018. I have survived the initial treatments and surgical challenges of this disease. It was and is a daily battle of fighting normalcy. My physical body will never be the same as it was before. My new "norm" is understanding and accepting the scars and reminders this disease has left me. My journey has been full of surprises, challenges, setbacks, acceptance and a newfound appreciation of the power of human kindness. When I was diagnosed, I felt alone and isolated. When I began accepting my fate, I found new strengths inside myself and was introduced into a world of unexpected friendships and happenstance.

My family, friends, the California Wildlife Officers Foundation (CalWOF) and many wildlife officers showed support during this journey…..

-Asst. Chief Wurster

My first lesson of happenstance and human kindness occurred shortly after my diagnosis. One evening as I was leaving the office, I saw an unmarked police vehicle on the side of a road. I pulled in behind to provide back-up assistance. It was a detective dressed in a shirt and necktie who worked for a neighboring police department. He warned the driver for a traffic violation. I noticed his "pink breast cancer awareness" pin. I mentioned the pin to him and he asked if I knew anybody with breast cancer. I swallowed hard and said, "yes, me." It was one of the first times I had admitted this out loud. A week later I received a pink patch and pin in the mail from this detective with a very encouraging note.

My family, friends, the California Wildlife Officers Foundation (CalWOF) and many wildlife officers showed support during this journey — everything from messages, cards, flowers, homemade gifts, food baskets, and encouraging words. I could not and cannot continue this battle alone. Breast cancer changes lives and I hope telling my story makes a difference, whether it be individually or globally, by offering hope, awareness, human kindness and encouragement.
.
Since my journey, I have had several wildlife officers and friends reach out to me with their own personal stories and connection with breast cancer. I want to spread hope and support to anybody and everybody who is touched directly or indirectly by this disease. According to the Centers for Disease Control, one in eight women will develop invasive breast cancer over the course of her lifetime. About one percent of men will be diagnosed. Breast Cancer is the second most common cancer among women in the United States. Once I began sharing my journey, I realized that it is hard to find somebody who has not been affected by breast cancer, either through diagnosis or knowing somebody who has been diagnosed. The other commonality I have found is no two breast cancer patients have undergone the exact same treatments and experiences.
.
The October pink patch project is to show support and awareness. The month of October has become a very special time of year for me. I have served as a law enforcement officer for a total of 27 years. I never imagined one day I would be able to campaign and support so many who share this commonality with me. I collect pink patches and display them proudly in my office. It provides me with the opportunity to help and show support to others. Although I don't celebrate having been through breast cancer, I feel blessed to have access to good health care, support and an opportunity to offer glimmers of hope to others who are affected by this disease."

..Asst. Chief Wurster is a breast cancer survivor. We wish her good health and thank her for sharing her story as an inspiration to others.